Individual student
The Student Report provides an in-depth view of student performance and UC and CSU eligibility. The report covers GPA, performance against A-G requirements and individual course grades.
This report allows users to quickly identify particular subject areas where the student may need extra help as well as the courses the student took to satisfy a given subject area requirement. It facilitates the conversation about courses left for the student to take to fulfill specific subject areas and the overall A-G requirements.
Here's a detailed look at a report: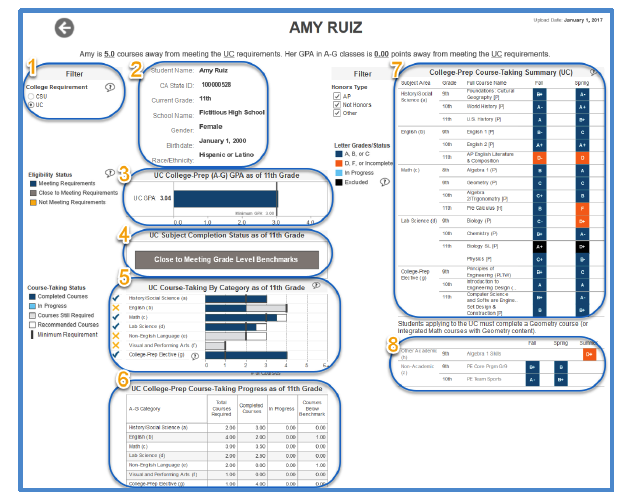 This report:  
Allows users to toggle between the UC and CSU eligibility reports.
Displays the student demographic information.
Displays whether the student is meeting the minimum UC or CSU GPA.
Displays whether the student is meeting the subject area requirements for their grade level.
Displays progress that student is making toward meeting overall A-G requirements. Checkmarks
indicate that the student has meet the minimum requirement for that subject area.
Displays how many semesters of each subject area students have completed and/or are deficient based on their grade level benchmarks (one semester = 0.5, one year = 1).
Displays are all courses and grades received for which the student has been given A-G credit.
Displays all other courses for which the student has not been given A-G credit. This section may include some courses that may be A-G approved but that we cannot verify based on the data sent to TES (eg. principal certification for LOTE courses, vague transcript abbreviations, out of district coursework that does not contain course identifying information).
Want more information? Watch our overview video.